Otways Ridgee Didge Music Festival
Rob Sawyer band to play the first Ridgee Didge Music Fest in Victoria's Otways. Gunna be a rippa!!! Byo CANS only and a donation at the gate of at least thirty bucks will be expected for u to enter! We still have Barbarion, Marshall and the fro, Benjalu, Stabbie stabbie kill kill, Rob Sawyer, Shaun Kirk, Luke Watt, Mojo Corner, Dynamo, Luke Legs, ROSSY Arundal, Stringybark Mcdowell, El moth and the turbo Rads, Johnny Hawken, Brides, Little Wolf, MJ Taylor and more should be pretty wicked! so get involved everyone. BYO CANS ONLY, food stalls will be baked spuds, roast rolls, BBQ and also a crepe stall! heaps of room for camping 2. So get your mates together and come be a part of ridgee didge music festival!
Posted: 05/10/2010 by Rob Sawyer. (link)
Euro Summer 2010
Dudes and Dudette!
What a radical few months its been. Myself and the band have been smashing our way through dates in France, Netherlands, Belgium, England, and are yet to make our way further south to Spain. How to pick out he highlights so far I don't know. There's way to many! I guess I could send some luv to the way of the crew at http://www.ongetemd.com for the good times. Loving the shows, loving the weather, loving the sunshine, awesome food, great beers, time in the water, amazing runs along beautiful coastline, and thanks to our van/home for holding up and putting up with our stench. Cheers to all the crew we have listened to our songs, had long nights with us, put us up for a night or a shower, or bought our new album. We love you Europe! And to Australia, we cant wait to get home and play some Aussie summer festivals, and release this new album that has been a long time coming for the past 4 years. Im really happy with how it has turned out, and I look forward to hearing your responses to the new material. Cya soon! Rob.
Posted: 18/08/2010 by Rob Sawyer. (link)
'Desert and a Bicycle' Tour May 2010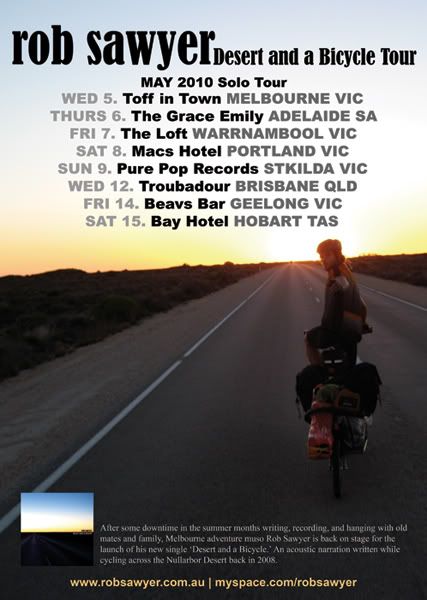 Posted: 29/04/2010 by Rob Sawyer. (link)
T-shirt for sale online. Shipping worldwide!

The new Rob Sawyer 'Adventure Muso' shirt has been added to the musicplug.com.au website. And they are shipping worldwide so theres plenty for all!! Follow the link below
http://www.musicplug.com.au/manufacturers.php?manufacturerid=170
Posted: 13/04/2010 by Rob Sawyer. (link)
Desert and a Bicycle
After some downtime in the summer months writing, recording, and hanging with old mates and family, Melbourne adventure muso Rob Sawyer is back on stage for the launch of his new single 'Desert and a Bicycle.' An acoustic narration written while cycling across the Nullarbor Desert back in 2008. This will be the first release since his debut album 'sTUFF' in 2006.

The busy 24 year old managed to fit in the bike adventure between touring back and fourth around Europe and Australia for the past few years. There's plenty of inspiration and time to think when you pedal a bike some 4600kms from Melbourne to Perth and Rob's keen to share some songs and stories from his attractive tour schedule.

Rob Sawyer's music shows a talent beyond his years. At home on the stage, he plays carefree and effortlessly loving every moment. There is no sign of 'just going through the motions' as he illustrates the passion of an eloquent and enthused performer. The songs are eclectic, haphazard and raw and he delivers them armed with a voice that has evolved strong and compelling, with the well-worn fret board of a much-loved acoustic guitar.

Sawyer plays a string of shows for the single launch before taking off over seas for another European summer tour, and returns for the launch of a new album later in the year. Its been a remarkable journey so far, and its exciting to image what adventures the lad has up his sleeve for years to come!

5th May - The Toff In Town. Melbourne VIC + Kieran Christopherson + Mj Taylor
6th May - The Grace Emily Hotel. Adelaide SA
7th May - The Loft. Warrnambool VIC
8th May - The Macs Hotel. Portland VIC
9th May - PurePop Records. Stkilda VIC
12th May - The Troubadour. Brisbane QLD + Luke Foran
14th May - Beavs Bar. Geelong VIC
15th May - The Bay Hotel. Hobart TAS
Posted: 05/04/2010 by Rob Sawyer. (link)